Google has announced that Youtube will begin to use Augmented Reality in their ads. The first step is called "AR Beauty Try-On" and will allow users to experience make-up virtually.
This feature will be available in videos with contents of tips, tutorials and reviews of make-up products. Thanks to this technology, it will be possible to try virtual samples that promise to work in various skin tones. So you can get an idea of ​​how a product gets into you before you buy it.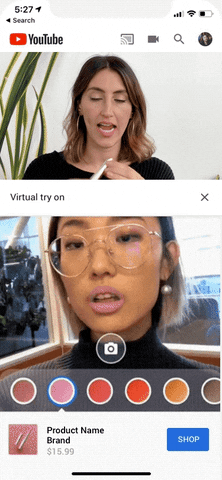 MAC Cosmetics is the first partner brand
MAC Cosmetics was the first brand to join this initiative. Users will be able to try different variants of branded lipsticks, while their preferred content creator demonstrates on video. After trying the product, users can click to buy it on the brand site.
Test reveals that 30% of users activate Augmented Reality
In its statement, Google reveals that it has tested this feature earlier this year with multiple brands. In the test, 30 percent of viewers turned on the Augmented Reality feature in the Youtube iOS app.
According to Google, the test revealed that each person spent, on average, 80 seconds to try the lipsticks virtually. Time will certainly have been influenced by the fact that this is a novelty.
This was a feature already tested by companies like Facebook or Snapchat. The great advantage of Youtube vis-à-vis any other competitor is its extensive community of beauty vloggers . The public is there, it has an interest in the products, and this functionality escapes the "classic" canons of advertising.
Given that quality make-up is not exactly cheap, this is a good way to get a feel for how products look before they are bought. Although not perfect, it will give value to brands that associate with this technology. For now, the function is in alpha phase and will be available during this summer.