That the popular messenger should contain advertising in the future, has been known for some time. Now the advertising format for Whatsapp has been shown for the first time.
Whatsapp had once come up with the promise never to advertise in the messenger app. Co-founder Jan Koum quoted Brad Pitt's character "Tyler Durden" from the movie "Fight Club" in his 2012 blog post " Why Do not We Sell Ads? ": "Advertising makes us hot on clothes and cars, doing jobs we hate, Buy shit that we do not need. "
The fact that this promise would not be sustainable in the long run, one already guessed when Whatsapp was acquired by Facebook in 2014. Jano Koum left Facebook in 2018 , there was a dispute over the further course for Whatsapp and the use of the data of the messenger. In the same year, Facebook announced that it wanted to open Whatsapp for advertising, but remained vague about how the monetization would look in detail.
At the Facebook Marketing Summit in Rotterdam, the social media giant now showed the planned advertising space in Whatsapp. Marketing is scheduled to start in 2020.
Future status ads in the status area of ​​Whatsapp
Whatsapp then offers status ads. These status-zone ads, where users can post photos or videos that disappear after 24 hours, appear between two status items. The vertical ads are full of screens and – just like a classic commercial break – should disturb the desired narrative flow of coherent status messages. The ad format is already known from Facebook and Instagram stories.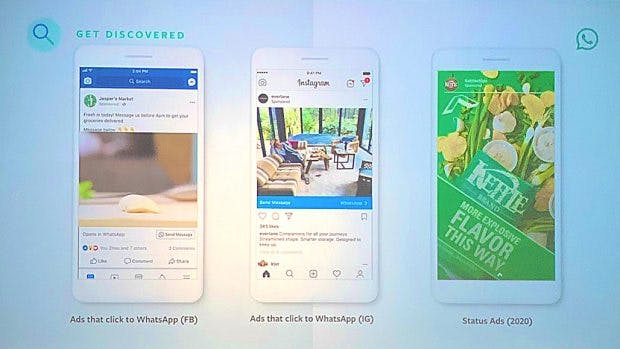 In the private chats, however, no advertising should appear. Anyone who only uses Whatsapp for chats and leaves out the status area will thus be spared advertisements in the future. At least for the time being.
It is understandable that Facebook relies on the status area for the sale of advertisements: Storys functions are popular and have high numbers of users, be it on Instagram, Facebook or Whatsapp. 500 million people use the function worldwide, according to Facebook.