Google cut 158 ​​of its own products, including 12 hardware, 12 applications and 134 services. No other Internet company can be "cruel".
On the website "Killed by Google", these 158 products are arranged according to the "death" timeline, such as the online history museum, for more and more "tourists" to refer.
In mid-September 2018, Google announced that it will completely suspend the mailbox software Inbox in March of the following year.
The news hit a lot of Inbox's loyal users, including front-end developer Cody Ogden, who complained on Twitter that it was "the worst news ever."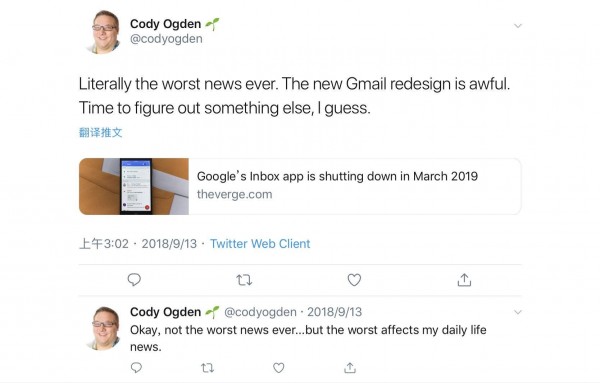 "Well, it can't be said to be the worst news ever, but it definitely has the biggest impact on my personal life," he added. On that weekend, Ogden "turned anger and anger into power" and launched a new project called Killed by Google on GitHub, collecting a little bit of all discarded products that Google has been in for 20 years.
The site has received nearly 2,000 responses on the forum site Reddit for several months, and the loyal and loyal users have excitedly shared their stories with Google's products. Ogden himself was interviewed by well-known media such as Forbes and The Fast Company for this project.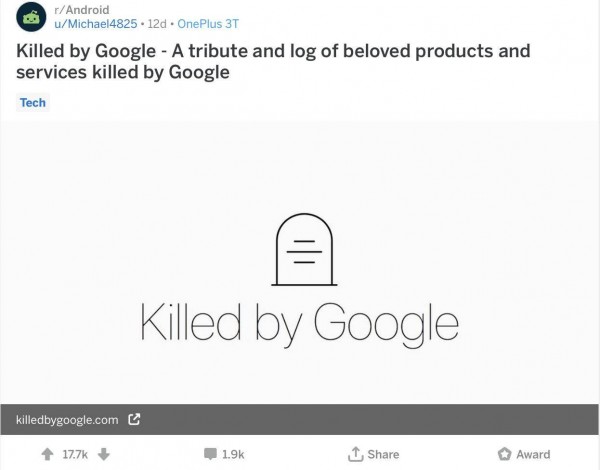 After Killed by Google became popular, Ogden explained in a blog post why he built the open source website. "The emotions expressed by people prove how closely these products are connected with our lives." "We are used to it." There are these applications, services, and devices in our daily lives. We gradually understand them, understand their characters and quirks, and the resulting relationships deeply affect us. Even after many years, they no longer accompany us."
Inspired by Killed by Google, TechGrits a number of good products that "dead from Google's hand" along Ogden's "Google Cemetery."
Of course, it is still the same sentence. For many people, these dead products have never existed.
Google Reader (2005-2013)
In October 2005, Google Reader was born on Google Labs, putting together the latest articles and messages from users' websites or blogs for users to read. In 2006, Google revised Google Reader, adding a number of features, including unread sections, tagging all read, folder-based new browsing methods, and extended icons to help users view multiple items at once. In addition, Google Reader also added project sharing features. Since 2007, Google has moved the audio and video content of YouTube and Google Video (2005 – 2012) to Reader.
September 2009, Google product marketing manager Kevin. Kevin Systrom announced that Google Reader graduated from Google Labs, but in the next few years, Google did not have important updates to Reader.
The reason Google doesn't care about this smash hit product is that the social platform Google+ came out in 2011. Google integrates Reader with Google+ to cut off the social features of Reader before, allowing users to share only with Google+.
Compared to business adjustments, the change in the habits of users reading news is a deeper reason. More and more users are turning to social media upstarts such as Twitter, Facebook, and Reddit. Just like Google News and Social Products Senior Master Management Richard. According to Richard Gingras, reading news has become a day-to-day, anytime, anywhere, replacing the habit of taking the whole time to digest news at breakfast time. Reader and other RSS are an "old" model compared to getting news from social media.
In March 2013, Google announced that Google Reader will be closed in July, and Google's response is that although Reader has a number of loyal fans, it must acknowledge the decreasing number of users.
Google also wants to streamline its products and services. However, this is still a big blow to the heavy users of the RSS subscription service. A petition requesting Reader to resume operations at Change.org has more than 100,000 signatures. Users who don't want to embrace the "new" model have turned to other alternatives, such as Feedly, which added 500,000 users within 48 hours of the closure statement.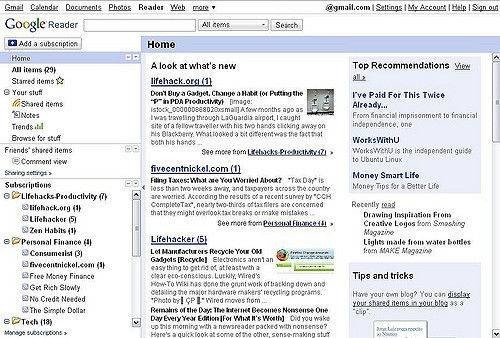 Under the Reddit-related article, netizens have commented, and one of them, called chupchap, said, "I still have Google Reader for Google Reader."
In addition to relying on RSS to cut into social functions, Google's layout in the social field has not been interrupted. It was once the most visited social network in India and Brazil, Orkut (2004-2014), the communication software Google Wave (2009-2012), and the social communication and communication tool built in Gmail, Google Buzz (2010-2011), could not escape being closed. fate.
Google+ (2011-2019)
Most of the failures ended, and the emergence of Google+ had the meaning of "work hard." Even Facebook has smelled the crisis. A copy of Facebook's former staff published in 2016, some high-level executives at Facebook believe that Google's entry into social networks poses a threat to Facebook. Zuckerberg said in the company that employees should spend time keeping Facebook's features consistent with Google.
In 2011, Google released Google+, playing the role of Facebook, Twitter, and Instagram in the social field. Google has added many features to Google+, such as Circle (community concept), multi-person text, Hangout for video and video chat, photo editing and other features.
This "hodgepodge" is not very attractive to users. Google began to use its YouTube, Gmail login for Google+, and users also need to "borrow" Google+ accounts on YouTube comments.
In October 2013, Google+ had about 540 million monthly active users, and only 300 million of them were actually accessing Google+ core features. ComScore predicts that in January 2012, users spent 3.3 minutes and 7.5 hours on Google+ and Facebook respectively. The New York Times described Google+ as a "ghost town."
Subsequently, Google refocused on an "interest-based social experience," with Google Hangouts and Google Photos becoming separate services on Google I/O in 2013 and 2015, respectively. Later, Google+ gradually removed the "bundling" feature with YouTube.
This less popular social software may not be known because of product features, but because of data breaches.
Last year, Google+ was exposed to the accidental disclosure of hundreds of thousands of Google+ users' private data during the 2015-2018 period. Last December, Google+ was once again caught in a data leak, doubling the number of users, which accelerated Google+'s closing schedule.
On April 2nd, the personal user version of Google+ stopped operating. Up to 90% of users in Google+ continued to use less than five seconds, and Google also gave up the remaining 10% of users. In the future, Google+ will be used for internal communication.
Google Allo (2016-2019)
Google, which never gave up on the communications and social markets, launched a series of communications software against Facebook Messenger, WhatsApp and iMessage.
In 2016, Google Allo and Duo made their debut with "Sisters." Allo is an instant messaging tool based on phone numbers, not social media or email. Allo focuses on artificial intelligence and Google Assistant.
Similar to Inbox, Allo also added Smart Reply, using Google machine learning technology, Allo learning context and pictures, recommending common ways to reply. Built-in Google Assistant allows users to ask questions and get answers when they are constantly chatting.
In addition, Allo's WhisperShout feature allows users to zoom in and out with their expressions. And the Smart Smiley feature can recommend emoji and sticker based on the "emotion" of the message. These little highlights have become the reason why loyal users like Allo. However, after two years, because the installation users are less than 50 million, the performance is not as good as the Duo born in the same period. Allo is called another victim.
In April 2018, Google announced the suspension of Allo's research and development, focusing on a messaging platform called Chat – based on the operator's RCS service. In December, Google announced that it will stop supporting the Allo project in March of this year. However, Google has retained Allo's favorite features, and Smart Reply and GIFs are integrated into Android Messages.
Google Glass (2013-2015)
Google Glass was developed by Google X, the most mysterious department of Google. Users wear this pair of AR smart glasses, as long as they blink, they can check the weather conditions, send and receive newsletters, watch video and audio, and liberate their hands. In 2011, Google developed a prototype weighing 3.6 kg. By 2013, Google Glass was lighter than normal sunglasses.
In April 2013, the Explorer Edition "Explorer Version" was offered to Google I/O developers for $1,500 and to testers selected by the #ifihadglass event. A year later, Google Glass officially opened the book online.
It is no exaggeration to say that Google Glass has made a breakthrough contribution to the wearable field. Google Glass is listed on the 2012 "Best Invention of the Year" selected by Time magazine.
However, the high price has hindered Google Glass from going to the mass market, and this pair of smart glasses that can take pictures and video at will, has buried a lot of privacy hazards. In January 2015, Google announced that it would stop the project.
However, this product that explores a viable path for AR technology has not withdrawn from the historical arena. In 2017, Google announced the release of the Enterprise Edition. In the 2017 documentary "I am in the Forbidden City," Dou Yicun used Google Glass to assist in the restoration of cultural relics, and also confirmed the potential of smart glasses in the commercial field. According to "9to5Google", Google has been developing the second generation of Google Glass Enterprise Edition, the second generation uses Snapdragon 710 processor, supports LTE network, Bluetooth 5.0 and 802.11ac WiFi, memory 3GB, 32 million pixel camera, support 30kps 4K shooting or 120fps 1080 high quality shooting.
Project Tango(2014-2017)
Project Tango was born in Google's Advanced Technology and Projects Group (ATAP), a division retained by Google after the acquisition of Motorola. Tango was developed by a team led by Johnny Lee, who is also a core contributor to the Microsoft Kinect project.
Using computer vision, Tango enables mobile devices such as smartphones and tablets to detect their location relative to the world without using GPS or other external signals, allowing developers to create indoor navigation, 3D maps, and physical space. Applications such as measurement, environment recognition, etc. Project Tango includes three technologies: Motion Tracking, Depth Perception, and Area Learning.
Google developed two experimental devices under the Tangle technology, the Peanut phone and the Yellowstone 7-inch tablet. In 2016, Google announced a partnership with Lenovo to launch the Phangle 2 Pro with Tangle technology, and later launched the ASUS ZenFone AR.
However, Tangle's landing on the mobile device also stopped here, and it was not widely deployed in the consumer sector. Tango has a higher level of 3D scene recognition, but has special requirements for the film.
In 2017, WWDC released ARKit, and Google also launched ARCore. In December 2017, Google announced that it would shut down the Project Tango project and focus more on ARCore.
Chromebook Pixel (2013-2017)
In 2013, Google launched the notebook Chromebook Pixel with Chrome OS. The most striking aspect of the Chromebook Pixel is the 12.85-inch high-definition touchscreen with a resolution of 2560×1700 and a Corning gorilla glass. The Wi-Fi version is priced at $1,299, and the 4G+WiFi version is priced at $1,499. But after two years, there was no new news for the Chromebook Pixel.
In 2015, Google brought the new Chromebook Pixel, equipped with Intel's fifth-generation Intel Core i5 or i7 processor, integrated HD 5500 graphics card, priced at 999 yuan and 1299 dollars, but the price is still not close to the people. Google wants to compete in the high-end market with the Chromebook Pixel and compete with the MacBook, but compared to the $1,499 13-inch MacBook Pro with Retina Display, the Chromebook Pixel is not as competitive as hardware and services.
However, as for the Forbes review, the high-priced route of the Chromebook Pixel is clearly contrary to the Chrome OS operating system. "ZDNet" believes that battery life, heat dissipation and fan noise are also a flaw in the Chromebook Pixel. Chrome OS is also not improving for touch. In August 2016, Google terminated the Chromebook Pixel because of poor market performance. Last August, Google sent a notice to the original Chromebook Pixel users, no longer providing software update support for this notebook with security patches.
However, although the Chromebook Pixel has been "buried", the Pixel series "lives". In 2017, Pixelbook and Pixel 2/Pixel 2 XL were unveiled together.
Inbox (2015-2019)
At first glance, it's similar to Gmail, but Inbox and Gmail serve a completely different audience. You can clean up your inbox in a simple way, and don't spend too much time drafting simple responses. Users who are more efficient will tend to choose Inbox.
Officially released in May 2015, Inbox now covers the Web, Android and iOS systems. Key features of Inbox include the same subject mail integration function, important mail marking features, and later reminders. In the recent update, Inbox has added undo send, smart reply "Smart Reply", integrated Google Calendar to arrange important events, and inbox "Save to Inbox" for later viewing and other functions.
In March 2016, Google said that 10% of mobile phones responded to the smart reply feature from Inbox. In September 2018, Google announced that it would stop this service this year. Google called Inbox "a great place to experiment with new ideas," and pointed out that many of these ideas have been moved to Gmail, such as smart responses. Google's closure of Inbox is expected to focus resources on Gmail's single email system in the future.
Inbox attracts a large number of loyal users because of simple and efficient functions, such as a Twitter user named Tarek Jellali, screenshots of the Inbox closing countdown, and the text "I understand, I still think Inbox is better." April 2 On the day, Google has officially shut down the Inbox service.
Reincarnation
Some of Google's products and services have not completely disappeared. Google has summed up the experience in this process and turned product and technology highlights into new business.
For example, in 2010, the first Nexus brand mobile phone Nexus One was born, and it was contracted by HTC. Google keeps launching 1-2 mobile phones every year, and chooses OEMs such as LG and Samsung to OEM. Among them, Nexus 4, Nexus 5 are all low-cost strategies.
Nexus's market response is normal. For example, after the 74-day sales cycle, the Nexus One sold only 135,000 units, while the iPhone sold 1 million units. Nexus has been named in a confusing way, such as the Nexus One, Nexus 4, Nexus 5, and the second-generation Nexus 7, Nexus 10, and Nexus 9.
In October 2016, Google simply gave up the Nexus, replaced by the Pixel brand, and launched Pixle and Pixel XL, which was developed entirely by its team and was the first smartphone with built-in Google Assistant. Prior to this, there were two generations of Chromebook Pixel and Pixel C tablets named after Pixel. However, the high price of the Pixel series and the starting price of the Pixel phone of $649 also allowed Google to abandon the low-cost mobile phone route. The significance of Nexus may be to promote the development of the Android ecosystem, and the emergence of Pixel also means that Google wants to master the hardware R&D initiative and move toward higher-end mobile phones.
There was also Google Now, which was launched in 2012, and then evolved into Google Assistant. Initially, it was only a simple question and answer. Google Assistant has deep learning ability to talk and chat with users in a more colloquial form.
We are no stranger to Google Lens and Google Photos. Early image recognition tools, Google Goggles allows users to take a photo of a famous landmark to search for information about landmarks, or take a product barcode to search for information about the product. However, in 2017, Google released a similar app, Google Lens, with built-in Google Assistant. A year later, Goggles was closed and users returned to Google Lens or Google Photos.
In addition to Inbox, Google+, Allo, Goo.gl URL Shortener (2009-2019) abbreviation service was not spared in this product line cut called "Spring Cleaning". Because of the excessive number of software and services that have been terminated, Google has also been hailed by many netizens as "self-cutting experts."
Among the many products being chopped, many still have a large number of fans at the time of shutting down, and at the moment when the product is about to be shut down, Google has received crazy protests and comments from users. To some extent, the repercussions caused by the closure of these products also prove the fact that they are not failures.