Snapchat's co-founders just earned more than $ 1 billion in revenue in just a few hours, after the social platform's good results in terms of footfall were presented.
Driven by containment and the pandemic, Snapchat's daily active users jumped 18% in the last quarter, pushing the number of people using the app to 249 million. Analysts had expected a figure of 244 million, according to Reuters.
Snapchat traffic explodes
Snap Inc., the social platform's parent company, just unveiled its financial results and footfall data in a new investor report.
First, we see that Snapchat users increased by 11 million during this third quarter (Q3), which ended at the end of September. An 18% increase, bringing the app's daily active users (DAUs) to more than 249 million. All data is green for the app, which was experiencing some growth problems last year – notably because of the success of Instagram and its Stories. This year Snapchat has gained an average of 20 million additional daily active users so far.
The most significant growth has occurred in what Snap Inc. calls the "rest of the world" – that is, all the countries that are not in Europe and North America. This could be linked to the successive updates of the Android version of Snapchat, long almost ignored compared to the iOS version. In India, for example, where Android is crushing the mobile OS market, Snapchat has seen a significant increase in users.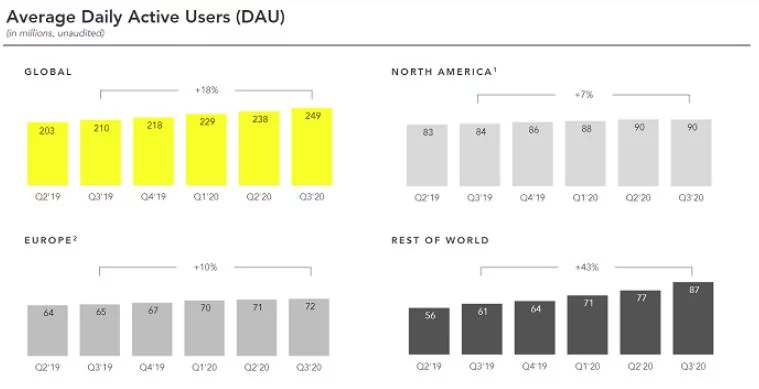 Jackpot for the founders of Snapchat
These good results in terms of daily active users led to an impressive increase in shares of Snap Inc. In New York,
the stock rose more than 20%, from $ 28 on Tuesday to $ 34 per share.
In its report, the company says its sales jumped 52% in the last quarter, bringing the app's revenue to $ 678 million. The earnings recorded by the two co-founders of Snapchat, Evan Spiegel and Bobby Murphy, are $ 1.3 billion and $ 1.4 billion, Bloomberg notes. Bringing their respective fortunes to $ 6.9 billion and $ 7.2 billion, nothing less.
Sources: VentureBeat , Bloomberg