With the Motorola One Vision Lenovo brings a mid-range smartphone, which will receive thanks to participation in the Android One program unaltered Android and quick updates.
In the autumn at the Ifa 2018 Lenovo had presented the Motorola One , one of the first smartphones, which got an update on the then still new Android 9.0 Pie. Motorola One Vision , announced Wednesday, will also have an unchanged (Stock) Android and OS Update warranty, as well as monthly security updates over three years, thanks to its participation in Google's Android One program. On board is also the Google Assistant .
Motorola One Vision: No Notch for the Camera
The 6.3-inch display offers 21: 9 Full HD + resolution. It is protected from cracks by the so-called gorilla glass from Corning. Instead of a Notch as in the sister model One, Lenovo has left a hole in the left upper display corner of the Motorola One Vision for the front camera. The selfie camera offers 25 megapixels in good light conditions. In the dark, the user can use the quad-pixel feature to set the fourfold photosensitivity and make 6-megapixel images.The Motorola One Vision in pictures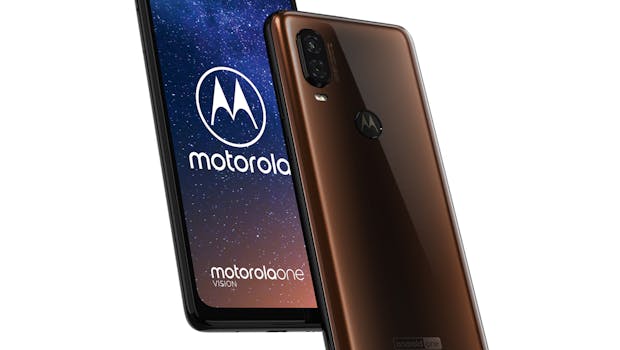 The main camera brings 48 megapixels (f / 1.7) on the scales and is also about so-called quad-pixel technology and optical image stabilization in low light conditions can take better pictures. The Lenovo camera also offers a so-called Night Vision mode. There are some AI features like Auto-Smile-Capture. Here is only automatically triggered when everyone in the picture smile. In addition, the AI ​​shoots in the Smart Composition mode automatically a second, possibly better picture. In portrait mode, better illumination is promised.
The camera features are said to be getting better and better with the built-in octa-core processor with deep learning capabilities. The built-in 128 gigabytes of memory can be expanded by micro SD card by up to 256 gigabytes – elsewhere in the Lenovo message and on the website is the question of 512-gigabyte or even 2-terabyte Cards are supported. The battery of the One Vision (3,500 milliamp hours) should hold according to the manufacturer for a whole day. In Fast Charge mode, after 15 minutes, enough power can be recharged for seven hours.
Motorola One Vision comes in late May for 299 euros
The Motorola One Vision will be released with Android 9 Pie and later upgraded to Android 10 Q and 11 R. The device can now be pre-ordered and will come in Germany from the end of May for the price of 299 euros on the market.