When choosing the best power bank to buy in Portugal, there are some doubts that we will clarify here. To do so, follow the tips and see how to choose the best model for your needs among the various powerbanks on the market
First, among the best brands of powerbanks on the market, we highlight Xiaomi, Anker, Mophie, Aukey and Rav Power, both for charging the phone, as the tablet and even some portable computers and other electronic gadgets.
1. Attention to the Power Bank's capacity
The capacity of a power bank is evaluated in milliamperes per hour ( mAh ), which is the main factor in choosing the best power bank for each type of user. The metric (mAh) refers to the amount of energy available for charging.
It is important to note that there is a loss of energy in the charging process. The voltage drop (voltage) can be caused by poor quality cables that offer greater resistance to current flow, among other factors.
This means, for example, that a 6000 mAh powerbank will not necessarily guarantee three full charges for a 2000 mAh battery. There are always losses, but the greater the efficiency of a power bank, the better its performance.
The most common configurations on the market are 2000 mAh, 5000 mAh, 10 000 mAh and 20 000 mAh, but there are others. We suggest the Power Bank Redmi, for 17 € in the Mi Store, taking into account the price / quality ratio.
2. Think about what you want to upload
Most mobile phones today use batteries from 2000 to 4000 mAh, while tablets range from 5000 to 7000 mAh. From here you have a good indicator to choose a powerbank taking into account the device you want to charge.
For example, if you want two, or three, charges for your phone, opt for a 10,000 mAh power bank. If, on the other hand, you only want an extra charge, you have more compact powerbanks with 3000 or 4000 mAh for that purpose.
In summary, identify the battery capacity of the main device that you need to charge. Then, think about the number of times you will need to charge it and, finally, use that value to choose the best powerbank for you.
We suggest the Power Bank Xiaomi, for € 15.99 in the Mi Store, with 3250 mAh for those looking for a compact product, easy to carry and capable of charging most mobile phones once, in addition to having a flashlight.
3. Do not neglect the rate and type of loading
Not all powerbanks will charge your phone, or tablet, as quickly. So pay attention to the powerbank's fast charging, with the majority having an output of 2.4 A and 5 V, the standard charging speed.
For fast charging, look for a power bank that delivers the following values in output / output: 9 V / 2.1A, 12 V / 1.5 A and a power of 18 W, or 45 W, for example. When using two or more ports simultaneously, this power will be divided.
In summary, pay attention to voltage ( V ), amperage ( A ) and charging power ( W ). The higher these values, the faster the energy transfer speed.
We recommend Xiaomi's Mi 3 Pro powerbank, for € 39.99 at the Mi Store, due to its high charging power at 45 W, able to charge some notebook computers, in addition to having a fast charge (12 V / 1.5 A).
4. Build quality and safety are important
The number and type of ports, especially if you want to charge multiple devices at the same time, is something to take into account. Whether they are input (for charging the powerbank) and output (for charging other terminals), choose USB-C and USB-A.
The type of cell used, both for safety and durability and product life. The best brands of powerbanks reveal the origin of batteries, in addition to chips and safety circuits and prevention of short circuit, or overload.
Finally, also the quality of construction – materials used in the body of powerbanks – is something to take into account. Whether for aesthetic reasons or as a guarantee of longevity of the product, while design can also be important.
Here we can recommend the Power Bank Xiaomi, for 19, 99 € in the Mi Store, built-in aluminum and finished in blue, or silver and 10,000 mAh capacity, in addition to fast charging at 18 W.
5. There are extras to consider in powerbanks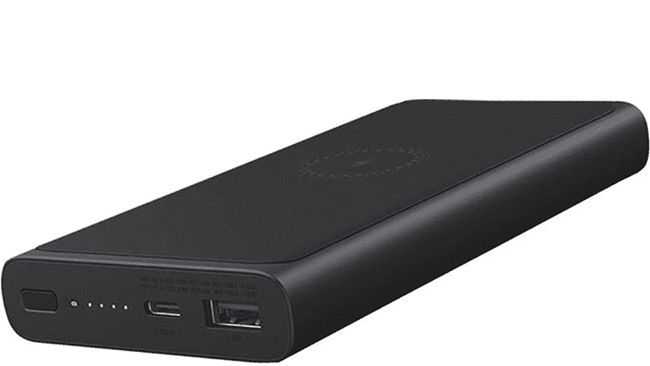 The wireless charging is one of the facilities you already find the best powerbanks. Here, simply place the mobile phone, or device to be charged, on the charging surface to start the energy transfer process.
It is always good to have a charge level indicator, simple and intuitive, it is a great extra to have in a powerbank. The best ones tell you the level of charge you still have, or even the speed of loading, among other indicators.
At the same time, you may need a robust powerbank to take you to summer festivals, or outdoor adventures, camping and other outdoor settings. There it will be useful to have a robust product, waterproof and / or drop and even with a flashlight.
Alternatively, you can choose a solar-powered power bank. Despite being a slow process, it is extremely useful if you are going to spend long periods away from home, or from an outlet and, luckily, there are several options.
3 extra tips when choosing a Power Bank
1. The best powerbank is one that meets your needs without compromising portability. Therefore, bigger is not necessarily better, with high capacity powerbanks they are quite bulky and, as a rule, heavy.
2. Opt for the best brands of powerbanks. Manufacturers that indicate the safety mechanisms implemented, that use reliable batteries (batteries) and whose products are well built, thus ensuring greater durability.
3. Power banks are subject to spontaneous discharge if they are several weeks, or months, unused. The same scenario can occur when exposed to temperatures below 5 ° C, or above 35 ° C.
Now that you know what to look for in a power bank, check out our buying recommendations for 2020. The selection brings together the best products to charge mobile phones, or even some laptops, with the best price/quality ratio on the market.