With Discovery Ads and Gallery Ads, Google wants to give advertisers more opportunities to reach their audiences. The focus is on pictures, video and advanced shopping options.
At its annual marketing presentation Google Marketing Live, the Internet giant has flipped through its novelty catalog and demonstrated what advertisers can expect in the near future for new advertising opportunities. Last year, Google introduced live advertising products based on machine learning to address their audiences in a smart way. In 2019, Google will be focusing on image galleries, the Discover feature, and an enhanced shopping experience.
Gallery Ads: Advertising as a picture gallery
As a new search ads, Google is advertising to flip. A Gallery Ad is a picture gallery that appears above the organic search results. The user can seamlessly swipe through the images of the ad without having to go to the linked landing page. Gallery Ads can contain four to eight images and 70 images per image. In addition, up to three different headings are possible to determine the best CTA. According to Google, ads with galleries have 25 percent more interactions. The feature should be rolled out during the year.
Discovery Ads open up the discovery feed
In the future, Google will monetize the Discovery feed, available in Gmail, on Youtube, and in the Google app. Like Gallery Ads, Discovery Ads provide a picture carousel that users can swipe through. Underpinned by Machine Learning, Discovery Ads should appear directly under the content that the user is looking for, and pick it up directly from their current need. Scatter losses should be minimized. Google indicates that the fashion retailer Techstyle scored 25% less per lead on a Discovery Ad test compared to other channels. Discovery Ads should also be available later this year.
Google donates bumper ads for everyone
Already in the run-up to Google Marketing Live, the company introduced Bumper Machine, a software that uses artificial intelligence to cut promotional videos into six-second bumper ads. We reported on Bumper Machine in a separate article.
Improved Shopping Ads
At present, platforms are increasingly integrating shopping opportunities – most recently Instagram with Checkout, which makes it possible to purchase products from the app. Google has upgraded its Shopping Ads and now plays them as aggregated product offerings on a personalized page for each user. It also appears in Youtube and Image Search. Every product shows how and where it is available: in the online shop, in a nearby store or directly from Google Shopping.
The Shopping Campaign with Partners option is designed to help manufacturers and retailers collaborate on a campaign. For example, it is no longer just shops that are responsible for the sale, and manufacturers can influence which products are specifically advertised.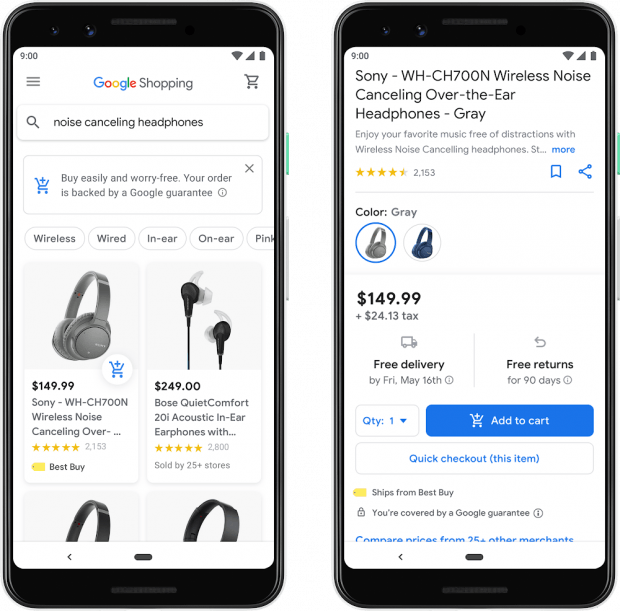 In the future, Shopping Ads will put together a personalized product page for each user. (Image: Google)
During the year, the new shopping opportunities in the US, France and other countries should be available. In this country you have to wait longer: A start in the German-speaking countries is not planned for 2019 yet.