On the occasion of its third back-to-school conference, Apple officially announced the availability of macOS Big Sur for this Thursday, November 12. Its brand new operating system for its range of computers has therefore gone into the final version.
Announced on June 22 at the WWDC Developer Conference, macOS Big Sur has been available in public beta since the beginning of August. After fixing a number of bugs over the weeks, Apple recently released a pre-final version and now believes this major update is ready to go into the user's hands.
Goodbye Mac OS X! Make way for a new design!
More than twenty years ago, in March 2001, Apple released the first version of Mac OS X, the tenth version of its operating system. Mac OS X 10.0 Cheetah introduced in particular the Aqua graphical interface which Microsoft had secretly inspired within Windows XP.
For macOS Big Sur, the system is finally going to version 11. And again, this does not translate into a radical change in the user interface. More refined, and playing on opacity effects, the design brings up to date rounded angles and more vivid colors. All the icons of the system are also passed into the hands of graphic designers. At a glance, it's obvious that macOS is taking full inspiration from iOS.
Apple explains that it has brought more uniformity between its different software with the presence of a side panel positioned on the left grouping together the various sections of an application. This is for example the case for Photos, Calendar, Contacts, Notes or even Home, FaceTime, Music and of course, the Finder.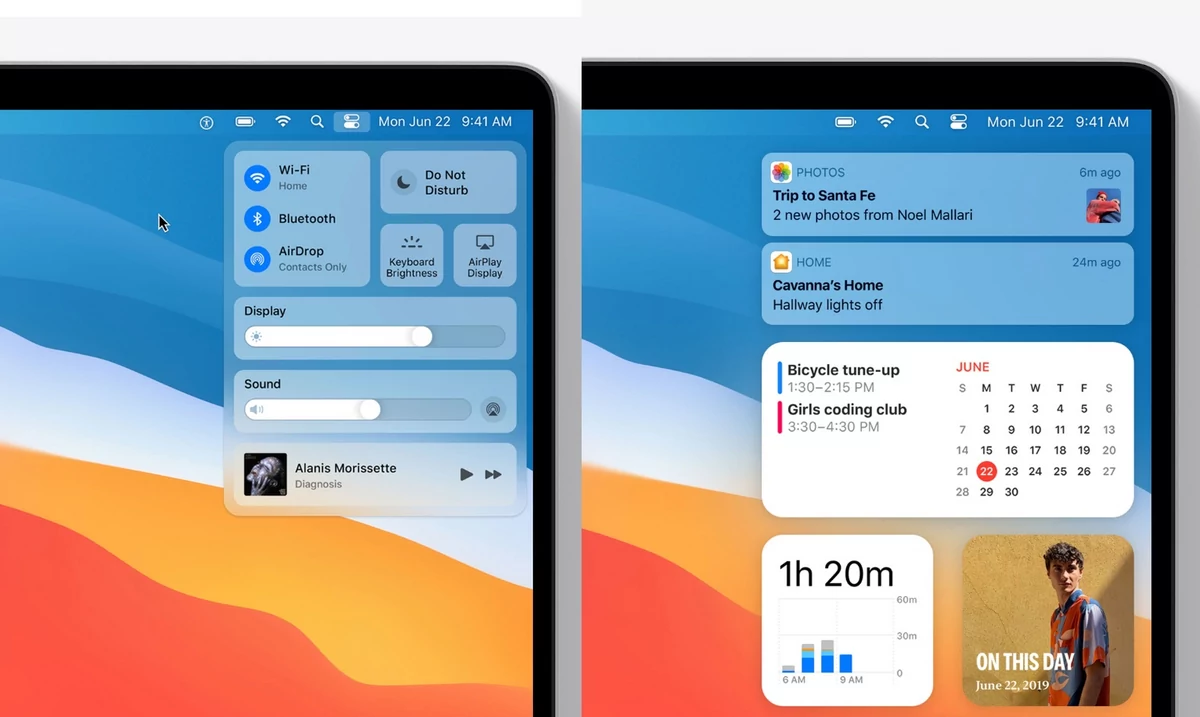 The company has also revised the control center, which looks like two drops of water to the one available in iOS and iPad OS. No more accumulation of buttons in the taskbar menu. The options relating to Bluetooth, Wi-Fi, brightness, volume, or even AirPlay are finally centralized. There are also playback controls for current media.
The notification center takes on its side the Today view of iOS and iPadOS. The latter not only includes email, calendar and application alerts, but also website alerts. Note that it is possible to add widgets (weather forecast, photos, stock market price, etc.)
Safari wants to play with the big boys
Apple continued its work on its Safari browser. We remember that the company had widely promoted the privacy features with macOS Catalina. This time, the Cupertino company announces that it is on average 50% faster than Chrome with better management of frequently visited websites. Since it is strictly optimized for macOS, the browser would provide better autonomy than Chrome or Firefox with 3 hours of additional video streaming and 1 hour of surfing more.
On the functional side, Safari offers a new home screen that can be personalized with the image of your choice and on which it will be possible to display various information: favorites, reading list, iCloud tabs … on their side, tabs automatically return a preview of the page.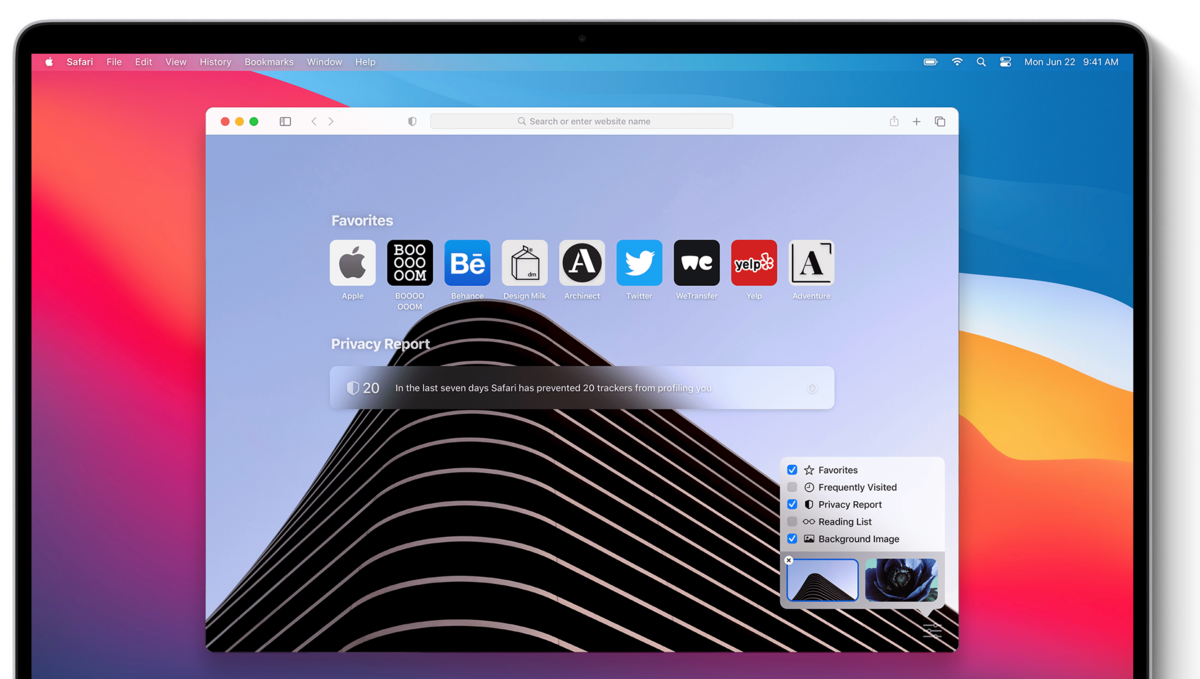 An interesting new feature is the direct integration of a machine translation module. To activate it, you will have to go to the languages ​​and regions settings in the Preferences panel and add the Safari application. It is possible to determine into which target languages ​​the translation can be carried out.
More importantly, Apple now makes it easier to develop extensions through WebExtensions programming interfaces. Developers who have designed their add-ons for Chrome will therefore be able to do the same on Safari. For Apple, it is obviously a question of helping with the migration. Moreover, a new section is appearing within the App Store.
More modern messaging
If in Europe WhatsApp largely dominates messaging, across the Atlantic, Apple Messages is particularly popular. And with macOS Big Sur, Apple has incorporated a whole bunch of new features.
The application, first of all, offers to pin favorite contacts in order to be able to more easily find a conversation with them and we finally find the possibility of responding directly to a specific message by quoting it. Always to better compete with WhatsApp, it is now possible to illustrate a discussion group with a photo but also by easily finding images and GIFs.
The Memoji feature, previously only available on iPhone and iPad, is now available on macOS. Finally, followers will appreciate the arrival of a search engine capable of highlighting not only the exchanges but also the media (links, photos …).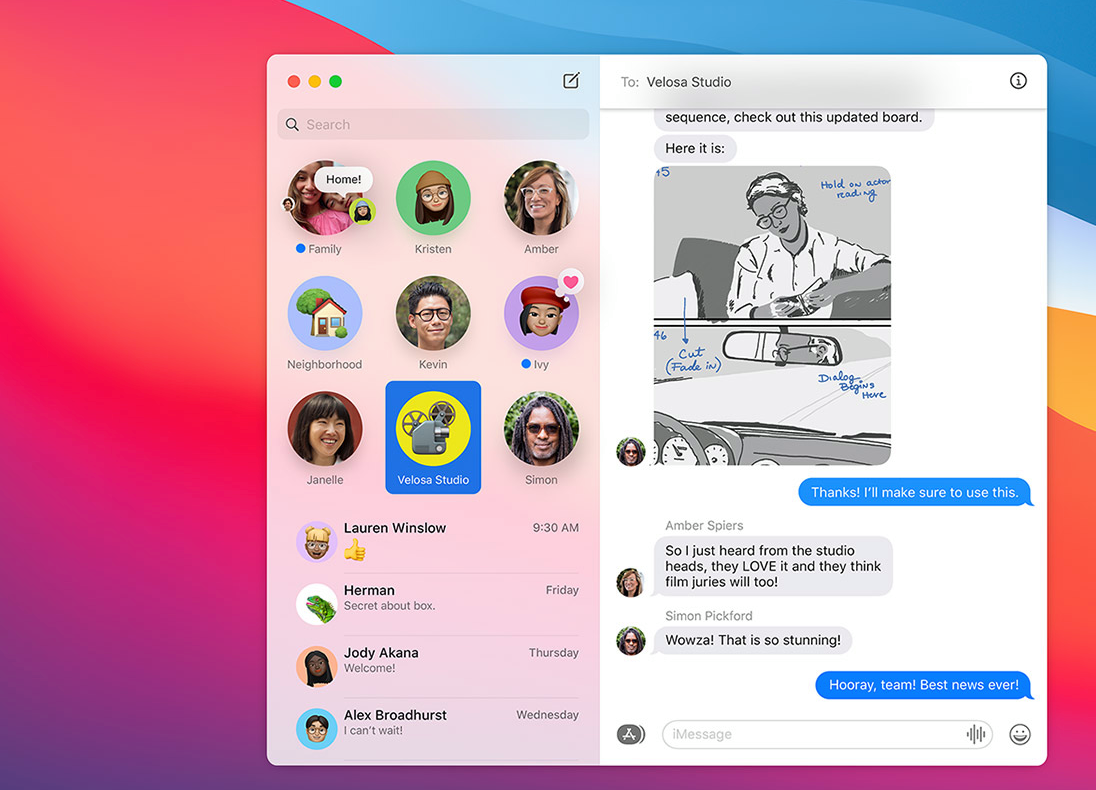 Other new features in macOS Big Sur
Among the other work done by Apple on this new version of macOS, the Maps mapping application includes a recommendations feature called Guides. Moreover, it is possible to create your own guides by collecting addresses (for example a list of restaurants) and then share them with your contacts.
In addition to the integration of a route calculation, this time taking cycling into account, Plans now includes the list of charging stations if you have an electric car. Note also the possibility of finding directly on a Mac a 360 ° view a little similar to what Google offers with Street View. Finally, Apple begins to enrich its database of indoor maps, in particular, to find one's way around airports or in large shopping centers.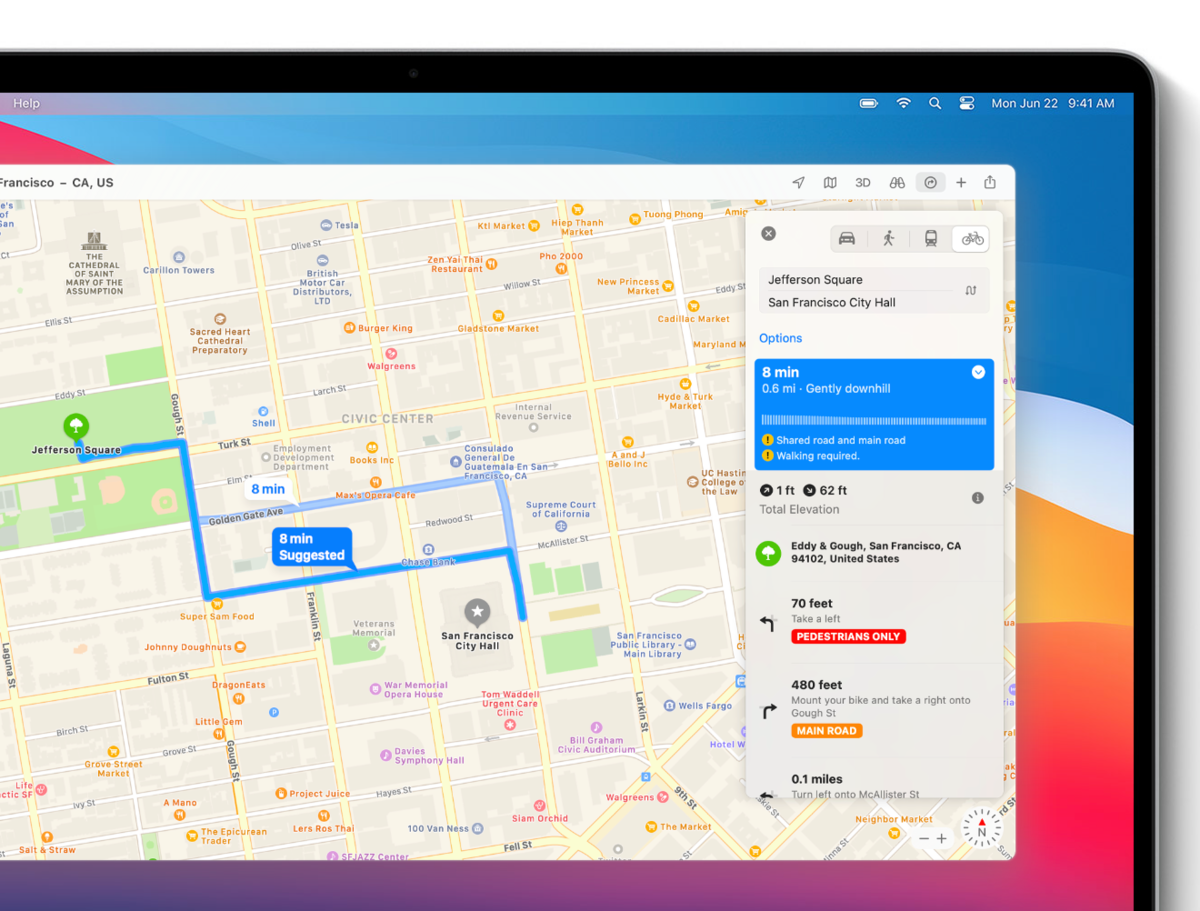 The Photos application comes with improved editing tools thanks to better algorithms. Apple Music is enriched with a Listen section to find interviews with artists or album releases. Note also, better support for AirPods with an automatic switch between different devices connected to the same iCloud account.
Which machines are compatible with macOS Big Sur?
Can you take advantage of this update? It will depend on your Mac! The new system will be available for download free of charge at:
MacBooks released in 2015 and later
MacBook Airs released in 2013 and later
MacBook Pros released in late 2013 and later
Mac mini released in 2014 and later models
IMacs released in 2014 and later models
iMac Pro released in 2017 and later models
Mac Pro released in 2013 and later